MAD MOBILE SECURITY – OVERVIEW
MAD is an all-in-one platform for the security analysis of Mobile Applications: it performs a fully automated Vulnerability Assessment without OS restrictions: it supports both Android and iOS and its only requirement is the mobile app's package. Thanks to this automation, it can scan the Mobile App, rapidly providing an overview of all releases and related vulnerability trends before they can cause damage. Each scan is quick as well as accurate. MAD was built to be accessible to all kinds of users, from technicians to managers: the reporting engine produces results, which cover both technical aspects and standards compliance. Discover MAD!
Android & iOS

MAD supports Android & iOS. No source code needed. Just the package.

Clear and reliable results.

Results organised in sections: OS statistics, standards compliance and tech area vulnerabilities.

Easy to use

MAD is for all users: just upload the mobile app and wait for the results!

Cloud & On-Premises

MAD is available via cloud or can be installed on your premises.
MAD AT WORK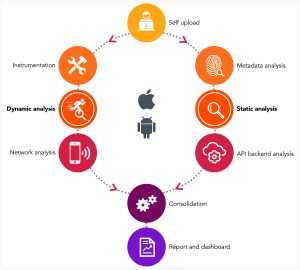 SELF UPLOAD
The first step provides for the upload of the mobile app package, APK for Android, IPA for iOS. A simple point and click operation: choose the package and upload.
INSTRUMENTATION
METADATA ANALYSIS
MAD's backend instrumentates iOS apps: the package is patched with our code to implement Dynamic Analysis without relying on jailbreak techniques. This operation will not affect performance or behaviour. The new IPA